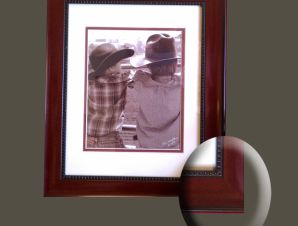 Lil' Buckaroos
In Sepia
Print Size 10x8; Framed & Matted 17.5x14.5
Frame Style: Solid Wood (dark)
To learn more about Les Walker visit our Les Walker Virtual Gallery
Product Information
All photographs can be customized by size, color and frame.
Available print sizes are 8×10, 10×8, 11×14 or larger upon request.
Framed &/or Matted, print sizes are 11×13, 13×15, 13.5×15.5, 16.5×19.5, 16×19, 16.5×22.5, 17.5×14.5, 22×25, 24×28 or larger upon request.
All photographs can be printed in color, sepia, black & white or watercolor effect.
Frame selections are Steinbeck 2.5" Chestnut, Solid Wood (dark), Solid Wood, Reclaimed Renaissance, Sienna Burl, Sienna Burl (thin), Carlton, Monterey and Red with Beads.
Other frames are available for special order.