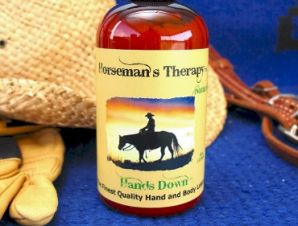 Horseman's Therapy Hands Down
This completely natural formula uses Avocado Oil from local Certified Organic Avocados, Sunflower Oil, Shea Butter and Aloe Butter. It is gently fragranced with Orange and Lavender Essential Oils combined, to make this all natural and all wonderful lotion for hands & body, and for Men & Women! A nourishing moisturizer that"s never greasy, contains NO Parabens, NO Chemical Fragrance, NO Artificial Color, and is absolutely NEVER tested on animals… We promise!
Product Information
Hands Down. The Finest Quality Hand and Body Lotion. Great for All Skin Types.