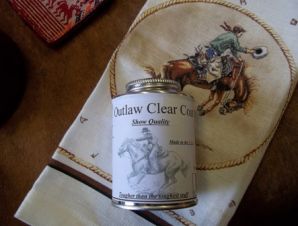 Outlaw Clear Coat Hoof Oil
If the Hoof is too dry, it's brittle and if it's too wet, it's soft. By adding Outlaw Clear Coat, it creates a balance in the foot keeping the proper amount of moisture in the wall.
Applications:
- To help moisture retention. - Replaces Periople that is lost through cleaning hoof wall. - Strengthens soft hooves - Use for show, cosmetic clear coat. - To seal and strengthen clinches on shod horses - Balance moisture content in hooves.
Locally made.
Product Information
Outlaw Clear Coat Hoof Oil. Tougher than the Toughest Stuff. 8 oz. Locally made.